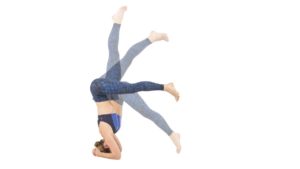 Recent graduate Lucy Allen talks about her experience
Am I the only yoga teacher who can't do a headstand? Looking back I can't believe this was my biggest fear going into teacher training. I had so much more to learn and here's why…
My yoga practice started 4 years ago in an effort to build some strength after an injury and help prevent another one whilst I was running a marathon.
I approached yoga in a similar way to my marathon training, challenging myself to get 'better' at the poses and progress to more advanced postures. The reality is that I am extremely tight in my hips and hamstrings so progress is very slow in some areas of my practice.
When I arrived at teacher training I honestly thought I would be the only one who couldn't do a headstand, touch my toes in the morning or wrap my leg around my head.
We practiced twice a day on teacher training which is a massive step up from the two or three times a week I was used to. By the end of the second day, I was tired! I had to change my approach. I was putting 100% effort into to each practice but to survive the two weeks I needed to move in a way that meant I could come back to the mat that evening, the next morning and for the next week. I had to move within the ability of my body and how it felt. It moved me away from thinking about how 'well' I was doing into a place of acceptance and I found a different dimension to my practice.
Something we explored a lot over the training was finding your voice as a teacher. That is partly finding a flow with the words (suddenly elbows and knees, lefts and rights become very confusing!) but also who you are as a teacher.
We had four beautifully unique teachers on our course each with something different to offer us as students. We were encouraged to explore what our dharma or purpose was to help us teach in an authentic way. For some that come's naturally and others, like me, it has taken time to find but teacher training is the place where you get space to explore that. It is this exploration and understanding of how you connect to yoga that in turn allows others to connect to you as a teacher.
Who are the teachers who you have had the best connection with and what made you go back to that teacher? Each of us will have our own reasons. Maybe they said something that resonated with you, you liked their sense of humour and they made the class fun, gave a hands-on assist when you needed support, or it might be something as simple as remembering your name. For me, how a teacher makes me feel creates the reason for coming back.
So the answer to the question is no, you do not need to do a headstand or be able to wrap your leg around your head. Celebrate and enjoy what you can do, keep learning, keep exploring and you will be a great teacher.