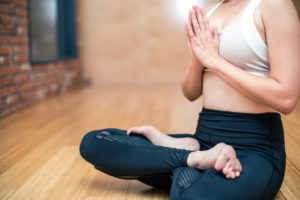 One of our recent graduates Abi Nuchi talks about her experience and why It's more than just physical.
As yogis, we tend to think that flexibility relates to the body. If you are considering yoga teacher training, however, consider the flexibility of the mind. 
I began my yoga practice out of concern for physical health, given the lack of physical movement prevalent in much of modern life. After hours of lectures and library, a sweaty hour of hot vinyasa was the perfect reward. And so as I progressed in my yoga journey I considered it as a way of taking my mind off of 'real' life by parking it at the door while I practiced.
However, if you intend to embark on a yoga teacher training journey then know it is the mind that will face the greatest challenges. For as you will learn, the physical practice of Hatha is but one slice of the rich philosophy of yoga.
For me, an integral part of my yoga teacher training experience was learning about the different branches and historical evolution of yoga, as well as its key philosophies.
On our teacher training program, we had time to take in these different areas of yoga stretched out along our rooftop studio, a gentle Mediterranean breeze cooling us.
There are six key areas of yoga, of which Hatha, or 'forceful' yoga, is just one branch. Although the physical practice linking breath and movement, which builds strength and flexibility, is the most common in the Western world, the ritual practices of Karma, Bhakti, Raja, Jnana, and Tantra enable us to transcend ourselves, bringing us closer to self-realisation.
Instead of practicing for your own personal benefit, yogic philosophy teaches us to eschew selfish desires and instead give the fruits of our practice away to others, through kindness.
Of course, it's not always easy to remember to be selfless in our daily lives, which is why doing so is something you should think about before embarking on a yoga teacher training journey.
You'll gain a qualification in yoga instruction after two amazing weeks filled with sun, asana, and excellent cuisine, but really it is the philosophy of what you learned that counts in the end. Because, as I've discovered, it's easy to come back from teacher training and continue your daily routine as it was before.
It's easy to simply resume doing your hourly yoga while parking your life at the door. But then, what is the value of challenging the flexibility of the mind? Being open-minded about these philosophies and their ability to guide and shape your own practice even further may be the fundamental takeaway from my own teacher training journey.
If you do intend to do a teacher training course, I invite you to open yourself up to experiencing new ideas and taking that home with you, rather than focusing on just the physical practice.
Namaste.